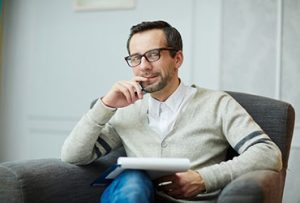 Local Psychiatrists Specializing in Every Area of Mental Health, Including Psychiatric Medication Management and Counseling
If you're having troubles in life and need the help of a local psychiatrist in Sarasota FL, we welcome you to call Comprehensive MedPsych Systems for an appointment. A psychiatrist is a medical doctor who specializes in mental health, including substance use disorders, and are qualified to look at both the mental and physical factors of psychological problems.
We can match you with a highly-credentialed and skilled local psychiatrist in Sarasota FL who can help you through a combination of medication management and therapy.
You may be looking for psychiatric help for a variety of reasons, from sudden problems like panic attacks, hallucinations or thoughts of suicide, to more long-term effects like prolonged feelings of sadness, hopelessness, or anxiousness that don't lift. It's easy to start feeling out of control without a strong foundation of hope. We offer that here at Comprehensive MedPsych Systems, where we specialize in behavioral and mental health services.
Comprehensive MedPsych Systems is located at 1090 S. Tamiami Trail in Sarasota, FL, and can be reached at 941-363-0878. Our hours are Monday through Friday from 8 a.m. to 7 p.m. and Saturday from 9 a.m. to 4 p.m.
Find a Qualified Psychiatrist in Sarasota FL
Taking a multidisciplinary approach to our patients, we are built on a foundation of offering compassionate, highly trained, and educated professionals that provide both psychiatric evaluation and treatment services. So, if you need a local psychiatrist in Sarasota FL, you have come to the right place.
Our team can treat a wide variety of conditions that respond well to therapy and/or medication, such as depression, anxiety, and bipolar disorder. We offer these services:
Anxiety Treatment
Bipolar Treatment
Local Psychiatry Services
Counseling Services for All Ages
TMS Therapy for Treatment-Resistant Depression
Medication Management
Pain: Behavioral and Psychiatric Management
Neuropsychology Evaluations for Cognitive and Memory Impairment
Forensic Psychology and Neuropsychology
Our Approach
We will match you with the best local psychiatrist in Sarasota FL for your needs. This professional may prescribe medications to help with your mood, attention span or organization of thinking. Any patient on medication will be evaluated by a physician at regular intervals as well as whenever a change in status has occurred.
We offer a team approach here that ensures the most effective treatment for emotional disorders such as depression and anxiety, backed by a combination of psychiatric medication management and psychotherapy. Our psychiatrists and psychotherapists work in conjunction with one another to ensure all patients are making good progress.
As a result, better levels of inter-communication will allow the whole team to work together in relaying information quickly, while also addressing any critical emotional and/or medication issues that require resolution in a timely manner.
It may take several visits to determine that the medications you have been given are stable and effective. Plan on your initial medication management visits taking about an hour the first time and a half-hour for every visit afterward. During your appointment, your local psychiatrist in Sarasota FL will make sure you're experiencing benefits of the medication with little to no side effects. If there are issues, adjustments will be made.
Please give us a call to schedule your appointment today for a local psychiatrist in Sarasota FL.