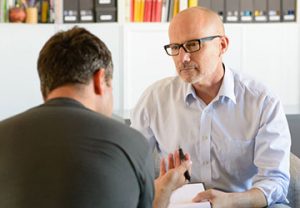 Get Help From Our Skilled and Compassionate Professional Psychiatrists for Depression Treatment 
Depression, a debilitating disorder affecting people both emotionally and physically, is very common in the United States. Don't hesitate to get the help you need. If you or a loved one is suffering from depression and aren't sure what to do about it, please call Comprehensive MedPsych Systems — your trusted nationally-recognized mental and behavioral health provider. We offer comprehensive depression treatment backed by a staff of credentialed psychiatrists.
From medication management to unique treatments for resistant depression (TMS Therapy), we offer a wide range of diagnostic and treatment options for patients from children to older adults.
If you need a psychiatrist for depression in Jacksonville, FL, come to our state-of-the-art private practice for access to skilled yet compassionate and warm professionals who are here to bring you the highest levels of care.
Comprehensive MedPsych Systems is located at 5251 Emerson Street in Jacksonville, FL. Call us today at 904-399-0324 or fax us at 904-399-0420. Our hours of operation are Monday through Thursday 9 a.m. to 5 p.m. and Friday 9 a.m. to 12 p.m.
Depression Treatment in Jacksonville
Here at Comprehensive MedPsych Systems, the mental health of our clients and patients is of the highest priority. We give you access to the most innovative services possible, including our Transcranial Magnetic Stimulation, or TMS. This is an FDA-approved treatment (medication-free) that treated resistant depression with magnetic pulses.
With a 50-percent remission rate, many patients opt for this non-invasive treatment if they suffer from severe depression and OCD. If you have not been able to benefit from traditional antidepressant medications, TMS may be for you. If you have experienced bad side effects from those antidepressant medications, you may also be a good candidate for TMS.
We treat a wide spectrum of mental health issues and mental health disorders in Jacksonville FL, where our staff extends beyond psychiatrists to include other professionals such as psychologists, neuropsychologists and therapists. Our confidential services in this area include:
Depression Treatment
TMS Therapy: Resistant Depression
Psychotherapy Services
Anxiety Treatment
Psychiatry Services
Medication Management
Pain: Behavioral and Psychiatric Management
Bipolar Treatment
Our Team of Psychiatrists Are Here For You in Jacksonville FL
When searching for a psychiatrist for depression in Jacksonville, choose the competent staff at Comprehensive MedPsych Systems, where our all-in-one services ensure your needs are being addressed comprehensively under one roof. Because our team of therapists and doctors can all communicate about your treatment and progress, we are able to guarantee more effective outcomes and a higher level of diagnostics and integration of treatment.
So, if you require a trusted psychiatrist for depression in Jacksonville FL, make an appointment with Comprehensive MedPsych Systems today.