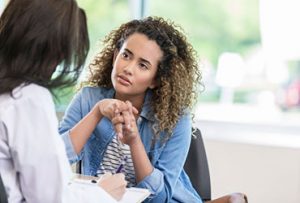 On-Staff Psychiatrists Treating Bi-Polar and Depression, as well as Anxiety 
Comprehensive MedPsych Systems offers the psychiatrist for anxiety in Mobile AL that you require to get the proper help.
Anxiety, a common mental health disorder, affects 40 million adults in the United States and many children as well. If you need a psychiatrist for anxiety in Mobile AL, you have sought out the right place. Here, we connect you with seasoned psychiatrists who can help you get a handle on your anxiety and start enjoying life again.
Comprehensive MedPsych Systems, a nationally-recognized mental and behavioral health provider, staffs compassionate professionals featuring the best credentials in regards to the treatment of anxiety in all its many forms.
Comprehensive MedPsych Systems is located at 1110 Montlimar Place, Suite 500, in Mobile, AL. Call us today at 251-662-9466. Our hours of operation are Monday through Friday 8 a.m. to 7 p.m.
Psychiatrist for Anxiety in Mobile AL
Our services are both confidential and far-reaching as we help men, women, teens, and children. Turn to us for:
Counseling Services for All Ages
Generalized Anxiety Disorder (GAD)
Panic Disorder and Panic Attacks
Social Anxiety Disorder
Medication Management
Depression Treatment
Phobias
Bipolar Treatment
TMS Therapy for Depression
Psychiatry Services
Pain: Behavioral and Psychiatric Management
Treatment of the whole spectrum of anxiety disorders in Mobile AL is our specialty, thanks to psychiatrists, psychologists, neuropsychologists, counselors and therapists on board who deal with all types of anxiety. Anxiety covers a wide range of psychiatric disorders that involve feeling extreme levels of worry or fear, such as:
Generalized anxiety disorder (GAD)
Panic disorder
Phobias
Selective mutism
Agoraphobia
Panic attacks
Separation anxiety
Social anxiety disorder
Depression and anxiety are two different disorders; however, people with anxiety often experience symptoms similar to those of depression such as irritability, nervousness, trouble sleeping, and difficulty concentrating. We typically introduce a combination of counseling and medication management for successful anxiety treatment.
Experienced Psychiatrists in Mobile AL Can Help With Your Anxiety
Do you have excessive, persistent, and intense worries every day? Do you have several episodes of intense anxiety and terror that peak within minutes? These can be signs of anxiety disorders. Being evaluated by a professional is the only way to be properly diagnosed and treated.
We bring a team approach with all-in-one strategies to ensure better levels of communication, outcomes, and integration of treatment. Please call for your appointment today.